Terry Case writes about his travels for steam. Further tales will follow from time to time covering more of Australia, India, South Africa, Indonesia and Pakistan.
Click here for the Case Notes Index.
---
I visited Indonesia in August 1982 and 1983, each trip had a week dedicated to steam and a second for tourist activities.
Travelling on the mainline to Madiun I was to see a number of depots with steam engines in store. I lost my detailed notes for these trips so I no longer know all the locations. The train stopped long enough for a grab shot, maintenance work was still done, but it is doubtful if the locos were used again. In addition to D52s there was a C11 on display. At other depots I remember seeing a BB10 Mallet dumped (Tasikmalaya RD) and C27 (Kutarjo RD) and C28 tanks out of use as well as the odd D52 in steam. (The picture below I believe was taken at Banjar. RD)
In August 82, during a station stop (Kroja RD) I photographed a C51 in steam in the yard! Well not really the D52 behind was in steam and the C51 was stored.
Also seen here was CC5019 on a mixed, but note the front truck with rails stacked. In remote areas of Pakistan this was the way to detonate mines before the engine was damaged, but I did not know of any insurgency in this area so it was probably a p.w. truck.
The mixed had presumably come from Purwokerto, but I had not seen recent reports of steam on this line and had presumed it was diesel. (CRJ 56 reported Purwokerto closed to steam in July 1983). It being August and the 17th being independence day, the tender was daubed appropriately (Bebas = 'free', Merdeka = independence). A year later I saw the same engine shunting oil wagons at Garut. Derek Huntriss had photographed the engine in green livery in 1977.
At Madiun in August 1982, D52072 and several other members of the class were still in use, but other D52s were being cut up. It carried enough plates to make a general proud! Nearby less fortunate D52s were being broken up.
B5004 was also in steam, also B5012, with the tender off B5012. The little 2-4-0s made a contrast to the larger D52s.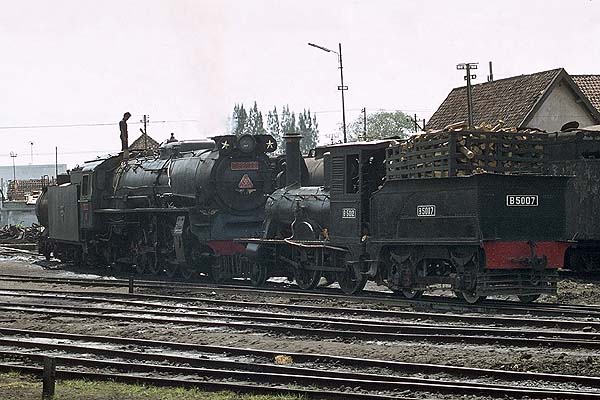 I was disappointed to have not seen a B50 on line work, however to find 1880/82 built engines on light duties was a privilege. I was able to see D52s working mixed trains and on the yard shunt, sometimes assisted by a B50. I had an enjoyable stay especially as I had found a cheap, but charming old hotel where songbirds were kept in cages to be admired by the Indonesian guests.