Harvey Smith was based in and around Moscow off and on from 1997 to 2014 and has now moved to St. Petersburg. Apart from this report he has also posted information on other attractions in Moscow and the rest of Russia, there are links at the bottom of the page.
Much machinery from the days of the former Soviet Union has been abandoned in remote areas (as indeed has much railway equipment, particularly narrow gauge) and from time time travellers stumble on it and indeed some gets rescued. Alex Malianov has sent Harvey a variety of links to pictures on local websites. Where a picture is shown as sourced from Wikimapia, it is used in accordance with their terms of service conditions, otherwise I have unusually 'borrowed' them . I have no further information on makers etc save that given in one case. In some case the original links will show the pictures in higher resolution or you can try right clicking and 'View Image in new Tab' or similar in tyoutr browser.
This is an old portable in the settlement of Revda (Murmansk area), transported from inaccessible village Chalmny-Varre (according to other information - from Krasnoschelye), and before that it stood somewhere on the Tersky shore of the White Sea, pictures are courtesy of Alex Malianov. I believe it may now be in the museum of Lovozero mining enterprise.
The ruins of a steam sawmill, Letniy coast of the White Sea, 64°46'0"N 38°21'55"E, original Wikimapia link.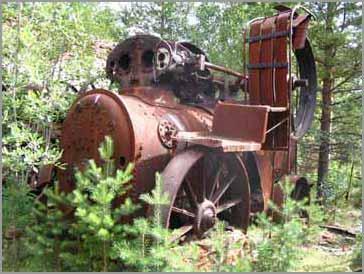 Abandoned steam machine in the uninhabited village Kega, Letniy coast of the White Sea, 65° 8' 40.04" N 36° 54' 27.14" E.. (Previous picture used, no longer available, November 2016).
Seam machines in the Pereslavl railway museum, 56°48'8"N 38°38'53"E, original Wikimapia link.
Abandoned steam machine in Krasnoselkup, Yamalo-Nenets, original Live Journal article.
Dyanka, Ukraine - 49°49'34"N 34°31'41"E, Original Wikimapia Link. The lettering reads in translation 'MTiTM USSR Kherson locomobile plant','P-38 power - 38 horsepower, 375 RPM. 15 atmosphere pressure',
MITM - the Ministry of Transport and Heavy Machinery.
Museum exhibit in Pereyaslav - Khmelnitsky, Ukraine, 50°3'31"N 31°28'35"E, original Wikimapie link.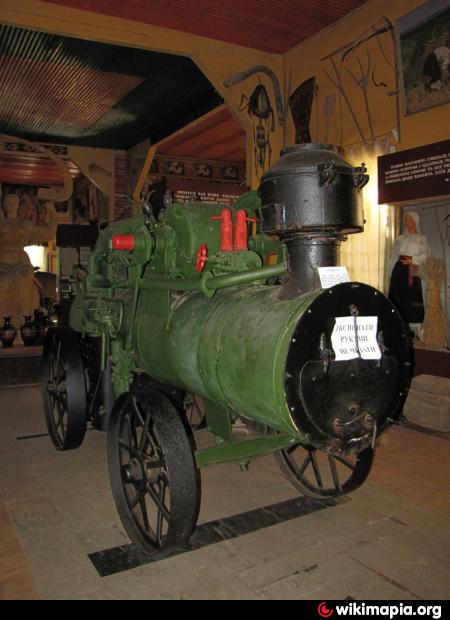 ---
Museum of the Moscow Railway at Paveletsky Station (Museum of Lenin's funeral train after renovation, 12th February 2012)

A Moscow Miscellany Part 1 (updated 1st August 2012)

A Moscow Miscellany Part 2 (updated 12th August 2012)

A Russian Steam Miscellany (updated 8th October 2014)

Moscow Retro (Steam) Train 2010/11 (updated 24th September 2012)

Podmoskovnaya Depot, Moscow 2010-2013 (updated 24th June 2013)

The Kratovo Children's Railway (13th June 2012)

Kazanski Station and the Golden Eagle Trans-Siberian Express (24th September 2012)

Kievski Station Locomotive Depot (1st August 2012)

Serp and Molot Factory Steam Locomotive P24-7 (updated 3rd January 2013)

Shcherbinka Depot and Test Track (12th August 2012)

175 Years of Russian Railways at Shcherbinka Depot and Test Track (12th September 2012)

The Moscow Polytechnical Museum, 2012 (18th September 2012)

Leningradski and Yaroslavski Stations, Moscow (3rd January 2013)

Moscow Retro Steam Trip to the Space Village / Star City (13th March 2013)

The Technical Museum Vadima Zadorojnogo, Moscow (updated 18th March 2018)

Podmoskovnaya Depot, Moscow, August 2013 (6th September 2013)

Podmoskovnaya Depot, Moscow, 9th April and 13th June 2014 (16th June 2014)

Podmoskovnaya Depot, Moscow, July/August 2014 (11th August 2014)

180 years of Russian Steam (10th August 2014)

P36 120 formerly at Belorusski Voxhall / Railway Station (29th August 2014)

Farewell to Podmoskovnaya Depot, October 2014 (updated 31st May 2018)

VE Day in Moscow, 2015 (and 2017) (11th May 2017)