Trevor Heath has provided a list believed correct as of November 2019, which can be compared to the 2014 version below:

Those believed to be in ticket are indicated thus *.

Argentina
FCAF 2* + 5* plus a third under construction.
Australia,
Thirlmere Musuem AD60 6029*

Puffing Billy Railway G42* + NG/G16 129*, this is the latter under steam test in late 2019.

ASG G33 (under restoration at AHRS, Bellarine, Victoria)
India
N class 811* (Kharagpur)
New Zealand
14A 509 (under restoration, MLS Plimmerton)
South Africa
GCA 2621, 4126* (4074) + 4135

NG/G11 52*, 55 + NG/G13 49* + NG/G16 88*, 113*, 116*, 131, 153*

All those at Sandstone, 49, 52, 88, 113 and 153 have been in storage since April.2019.
Wales
NG/G13 60 and likely to steam at the V of R, Aberystwyth, in 2020

Ffestiniog Railway, Welsh Highland Railway section NG/G16 87, 130, 138*, 143*

WHR 138 comes out of ticket in February 2020 by which time 87 will be back in service, followed by 130 probably in April / May 2020. 143 comes out of ticket in 2021
USA
NG/G13 50*
Zambia,
Livingstone 14A 516, 520, 523*
Zimbabwe:
Bulawayo 14A 519*, 15A 414* (others may be 'near active')
---
At the time that the list below was compiled in 2014, Trevor Heath was working in New Zealand on restoring a Garratt to working order and in a rare idle moment he came up with this list of active Garrats around the world. It's depressingly short: A list of those recently active and known to be under restoration follows at the end, similarly a list of candidates which are not 'mission impossible'.
Lleida, Spain 730 (282F0421) (last large Garratt built, 1960, 1668 mm 'broad' gauge)
AHRS Canberra, Australia AD60 6029 (1435 mm 'standard' gauge)
NRZ Garratts (All 1067mm 'Cape' gauge)
NRZ Bulawayo, Zimbabwe 15th (395, 414)

HCC, Hwange, Zimbabwe 14A 519 (on hire)

VFSS, Victoria Falls, Zimbabwe NRZ 14A (512)

This is Theo Strauss's picture from 2010:
PBR Victoria, Australia G42 SAR NG/G16 (129) under active restoration
This is Frank Stamford's 2013 picture of G42:
Former SAR Garratts (all 610mm gauge)
Welsh Highland Railway, Dinas, North Wales NG/G16 87, 138, 143, all pictures courtesy of Thomas Kautzor November 2014
WHR 87
WHR 138
WHR 143

Sandstone Estates, NG/G13 49, NG/G16 88, 113, 153

Patons Country Railway NG/G11 55

Schinznach, Switzerland NG/G13 60 (to Wales by 2019)

This is Thomas Kautzor's picture from 2001:
FCAF Ushuaia, Argentina two 500 mm gauge "freelance"
These are Shaun McMahon's pictures:
---
The following are thought to be under active restoration, some are progressing faster than others...
MLS Plimmerton, New Zealand NRZ 14A 509 (1067mm 'Cape' gauge)

AHRS, Bellarine, Victoria, Australia G33 (762 mm gauge)

PBR Victoria, Australia SAR NG/G16 129 (formerly 610mm gauge, will be 762 mm gauge)

Sandstone Estates, South Africa SAR NG/G11 52 (610mm gauge)

Welsh Highland Railway, SAR NG/G16 140 (610mm gauge)

These are Thomas Kautzor's pictures of the locomotive under restoration at Dinas in May 2014:
---
The following Garratts have run in the last 10 years or so and could be returned to traffic should the will and the money be available.
NRZ Bulawayo, Zimbabwe 16th No. 613 ran an excursion in April 2014 but has not been reported active since (1067mm 'Cape' gauge).

Creighton Steam Railway, South Africa SAR GMAM 4126 is 'out of ticket, it seems there are no plans to overhaul it (1067mm 'Cape' gauge).

Reefsteamers (but owned by Sandstone) SAR GMAM 4079 is operational, but needs new tyres and will soon be out of ticket (1067mm 'Cape' gauge).

EAR 5918 officially 'under restoration', in Nairobi Kenya, in practice little has been done recently (metre gauge).

This is 5918 at Athi River in December 2004 (courtesy of trevorheath.com):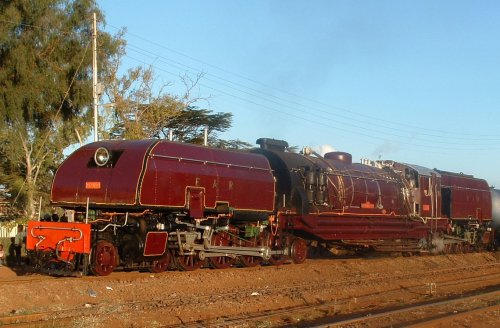 Hempstead, Texas SAR NG/G13 50 (610mm gauge)

Welsh Highland Railway, Tasmanian K1, out of ticket, no known date for overhaul (610mm gauge).

This is Thomas Kautzor's picture from November 2014 on more or less its last steaming: